Idaho Youth Ranch uses group therapy to help young people, ages 9 to 24, with proven outpatient therapies designed to address trauma, dangerous behaviors, troubling feelings or experiences.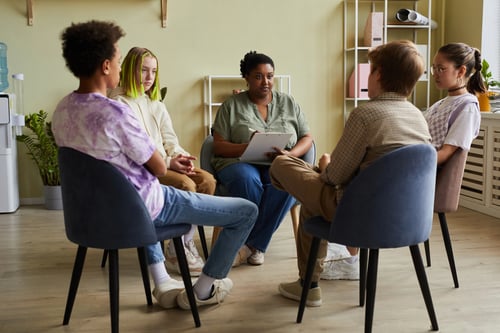 What is Group Therapy?
Group Therapy is a form of counseling in which a group of participants meet with a therapist to address a common set of goals. Young people can especially benefit from counseling in a group setting because it helps them to realize that many of the feelings and things they're experiencing are normal and they aren't alone.
At Idaho Youth Ranch, we offer groups to help kids, teenagers, and even parents address a variety of goals, like:
Building social skills

Learning to be more present

Changing negative thought or behavior patterns

Learning new parenting skills

Forming healthy relationships
Available Therapy Groups at Idaho Youth Ranch
Therapy groups at Idaho Youth Ranch use often several of our proven treatment models to help participants reach their goals. These models include Equine Therapy, Dialectical Behavioral Therapy (DBT), Cognitive Behavioral Therapy (CBT) and more.
Our counseling groups typically run for about 8 to 12 weeks and participants meet for an hour or two each week.
Among the upcoming groups offered are:
*Group therapy requires a preliminary appointment to confirm the group is the best for the individual.


Interested in Group Therapy?