Working with horses has been a proven method of emotional recovery and one of the most unique services offered by Idaho Youth Ranch.
Kids who act out are often reacting from deep pain or anger they don't understand and can't explain. Dark memories can be frightening to deal with. And for abused or neglected kids, trusting anyone—especially an adult—is too great of a risk. They've learned to protect themselves by shutting out people who try to reach them. It can be tough for a clinician to help a child who can't or won't talk about what they're feeling.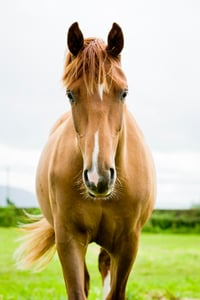 That's where horses come in. There is an intuitive connection between animals and children. The experience of interacting with a horse—a sympathetic, gentle giant who doesn't lie, doesn't judge, sees through pretense, and communicates without words—can be powerfully transformative. At the Idaho Youth Ranch, we've seen how time spent with horses has helped hundreds of at-risk kids through a special treatment model called Equine Assisted Psychotherapy (EAP).
The EAP model is different from traditional horsemanship. It's not about how to master or control the horse or how to ride. Instead, all activities take place on the ground and the horse is free to be itself and respond in any way it chooses. During and after the activity, clients process what just happened and talk about their thoughts, beliefs, behaviors and patterns. EAP's purpose iis to help clients understand themselves and learn by experience how their behavior affects others around them.
The EAP treatment model was developed by the Equine Assisted Growth and Learning Association (EAGALA), the international nonprofit organization that trains and certifies equine therapy professionals worldwide. In the organization's words:
"A fundamental belief of the EAGALA model is that our clients have their own answers, the answers that are best for them. We believe in the capability of our clients to overcome their struggles and find solutions when given the opportunity." Equally important is EAGALA's "philosophy of truly believing in the capability of our horses and being open to the lessons they are working to teach us and our clients."
In EAP the horse is considered an integral member of the treat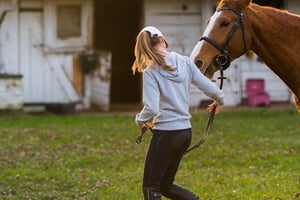 ment team, along with an equine specialist (professional horse person) and an equine mental health specialist (a licensed counselor trained and certified in EAP). According to the EAGALA training manual, "EAP is about the horse doing the work of effecting change in people's lives. It is about the relationship between horse and client." The therapists' role is to facilitate that relationship and structure the session to address the issues the client is struggling with.
"The power of the horse in therapy is amazing," said Fern Sargent, IYR's chief clinician. "Horses are able to pick up on human emotions and reflect them back to help hurting kids understand what's really going on inside them."
At the Idaho Youth Ranch, equine therapy is available to children and families who participate in any of our programs and services, not only kids in residential care. That includes family therapy, group and individual counseling, short-term crisis relief, even adoption services.