Idaho Youth Ranch

The statistics on domestic violence are sobering -- and seemingly endless. The CDC indicates that 1 in 3 women and 1 in 4 men have been raped, stalked, or physically assaulted by a domestic partner. In 2016 in Ada County alone, police responded to 5,236 calls for domestic violence or sexual assault. Moreover, behind many of these sobering numbers stands a child, or children, who either directly or indirectly experience the violence themselves. What do we know about the long-term effect experiencing or even witnessing domestic violence has on a child?
Impacting the Next Generation
When researchers examined the brains of children who had either experienced or simply witnessed domestic violence, their scans were strikingly similar to another group of individuals: combat veterans with battle-induced post traumatic stress disorder, or PTSD. Multiple long-term studies indicate that kids who live with domestic violence, even as onlookers, retain these psychological scars long after leaving home, leading to a host of chronic mental health problems and long-term side effects.
Joy D. Osofsky notes, "Children learn and imitate what they see and experience. Considerable evidence indicates that children who are exposed to domestic violence, as well as to violence in their community, are at much higher risk of becoming both perpetrators and victims of violence. (Bell, 1995)"
Long-Term Effects of Domestic Violence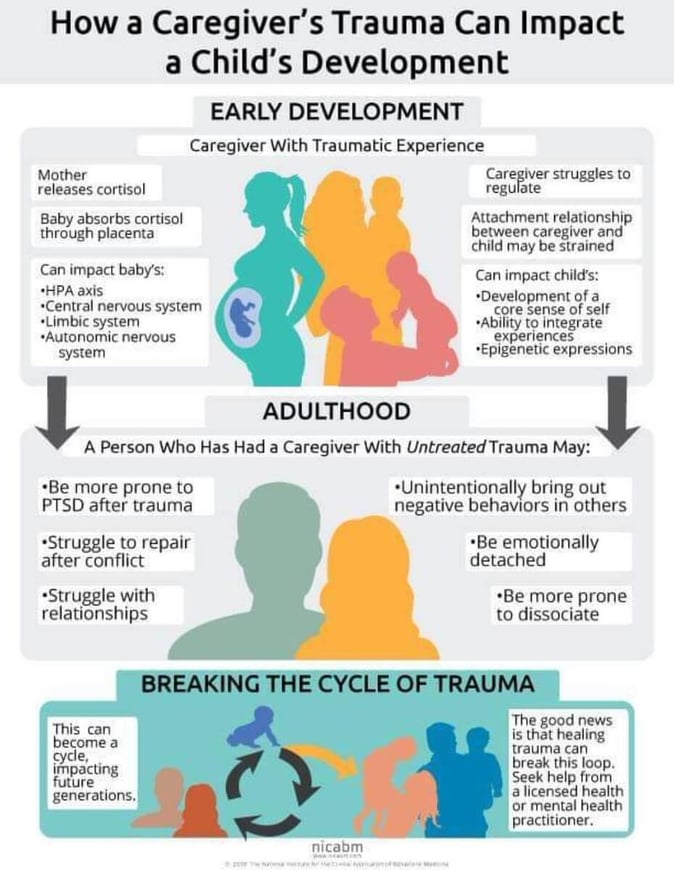 Consider this: More than five million children witness domestic violence every year in the United States. The impact can be both long-lasting and insidious. Dr. Sandra A. Graham-Bermann says, "They [children who have witnessed or experienced domestic violence] cannot connect the dots between what they experienced in their childhood homes and the challenges they face today."
What are the long-term effects of witnessing violence during these formative years? Some statistics shed light on potential impact. These children are:
50 percent more likely than their peers to develop substance abuse issues
Nearly 75% more likely to commit a violent crime
Three times as likely to become perpetrators of domestic violence
Live shorter lives than their peers, by 7 to 10 years
Struggle with low self-esteem, PTSD, learning difficulties, lower IQ, attention disorders, memory problems, and problems forming relationships
Idaho Youth Ranch Therapy Models
The Idaho Youth Ranch has several therapies uniquely designed to address the short-term and long-term effects of domestic violence on children. Through treatments such as Equine Therapy and Dialectical Behavioral Therapy (DBT), the Idaho Youth Ranch helps children affected by domestic violence overcome their trauma in two capacities. Equine therapy has been proven to help traumatized children break down complex emotions that an adolescent brain cannot understand. Horses reflect feelings back. If a child is angry or agitated, the horse will be, too. With the help of specially trained therapists and equine specialists, horses help children understand how domestic violence influenced them. Once a child understands his or her feelings, they can begin to heal.
The second capacity in which the Idaho Youth Ranch helps kids is through DBT, which is therapy designed to teach coping and life skills. Children who grow up in violent situations have an instinctual "fight or flight" response to situations. In other words, such children immediately rise to anger and fight a situation (often leading kids to commit violent crimes later or become abusers themselves), or they simply shut down and flee a situation. DBT teaches victims how to control their emotions, consider their behavior, and recognize healthy and unhealthy situations. Find out more about how we help teens, children, and families in Idaho.
How Can You Help?
In these two approaches, the Idaho Youth Ranch helps children affected by violence cope with and heal from their experiences while giving them the tools they need to be successful moving forward. By supporting the Idaho Youth Ranch, donors and shoppers make it possible to provide these two kinds of therapies at little or no costs to families.
Last year, Idaho Youth Ranch provided more than 3,300 hours of outpatient therapy (this number does not include the 78 children who stayed in our residential programs), but there is still a waiting list today.
We need your donations to increase our capacity and help more families. Please consider a cash donation today.
To learn more about our programs, please contact us!
1. Startling Domestic Violence Statistics for Children
3. Domestic Violence Fact Sheet