Idaho's Kids Are Struggling
For low-income families, residential treatment options are nearly non-existent in Idaho.
On average,
every three days

an Idaho family on Medicaid sends their child out of state in search of treatment.
For families without private insurance or the ability to pay, getting help also usually means sending their kids out of state.
Unfortunately, we know that long-term treatment success declines when:
Families are not involved in treatment.
Additional trauma is created due to separation from family.
There is a lack of therapist continuity during aftercare.
Youth don't have local coordination to re-enter school and the community.
Adverse Childhood Experiences (ACEs)
In 1997, the Centers for Disease Control and Kaiser Permanente embarked on a landmark study to learn how experiences during childhood affect people's long-term mental, physical, and behavioral health. Now, nearly 25-years later, we've learned that trauma is more than skin deep.
They asked over 17,000 people if they experienced 10 specific traumas during childhood.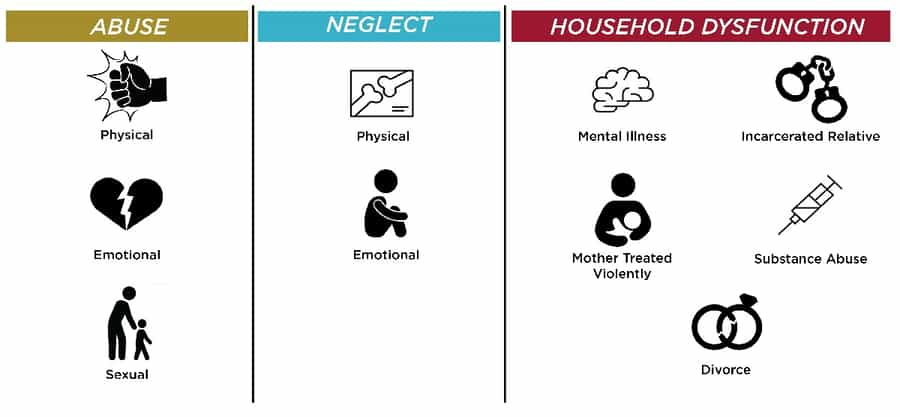 The Impact
Researchers discovered that for every 1 ACE, a child's likelihood for negative long-term outcomes increased exponentially.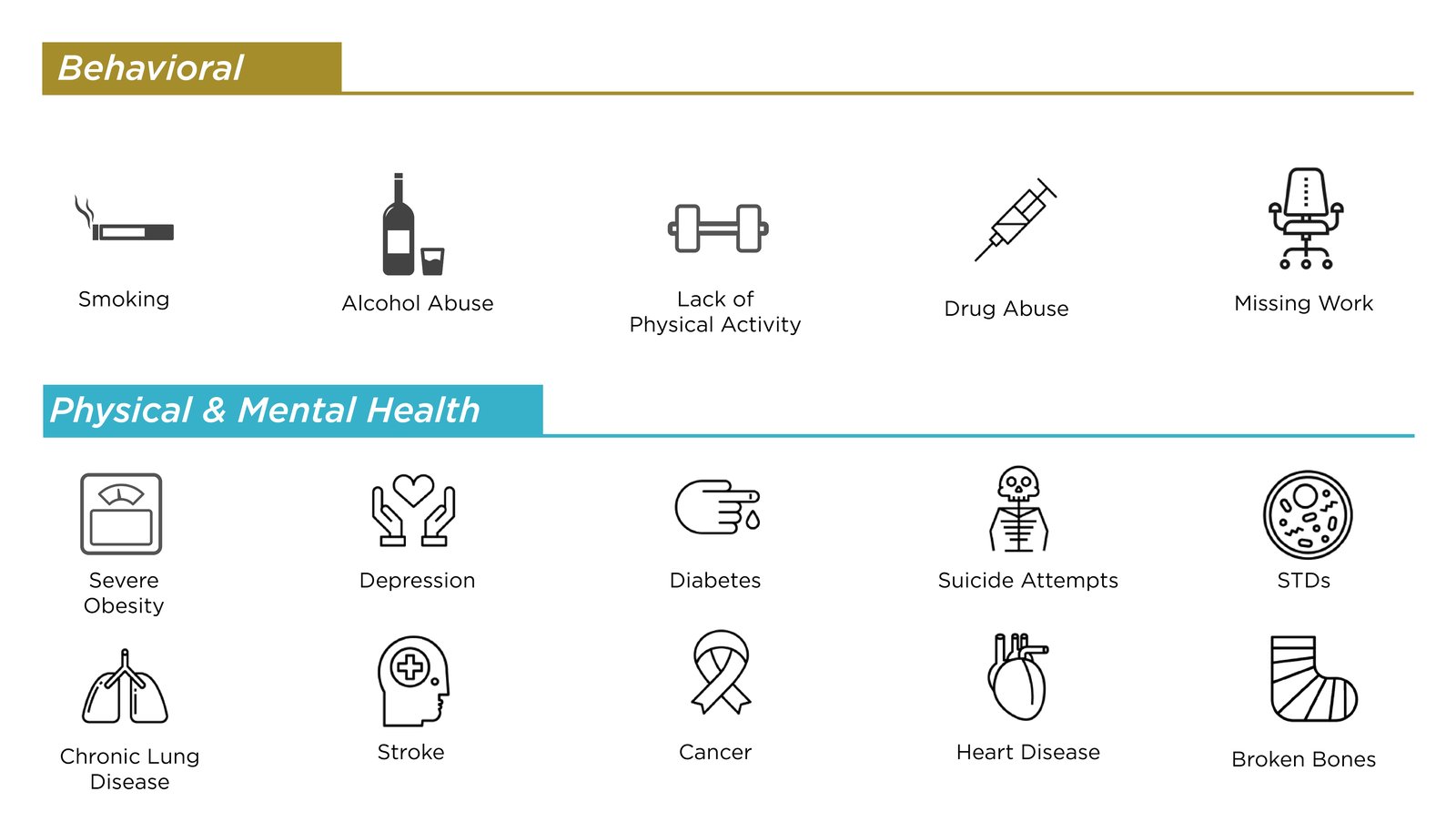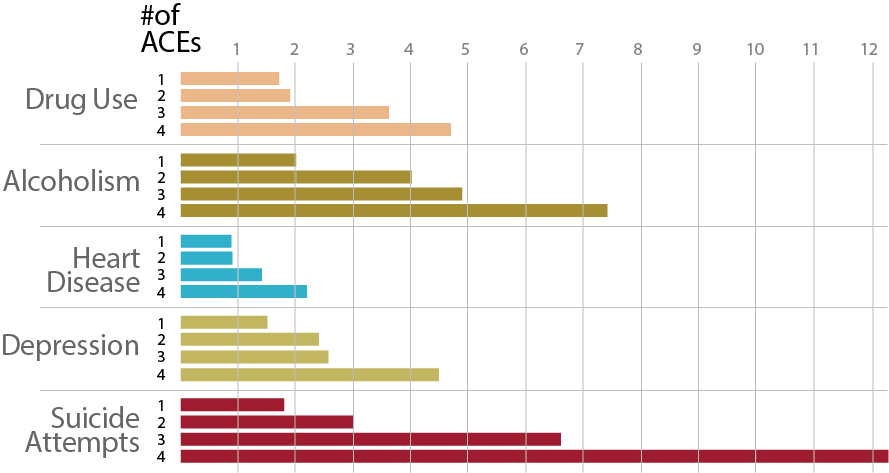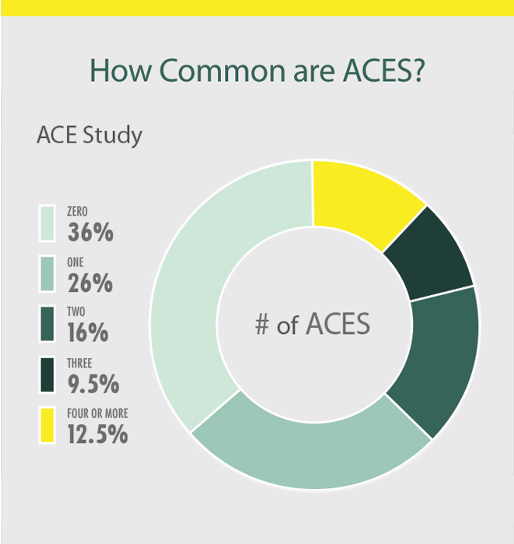 Idaho's Kids Need Your Help
Idaho has one of the highest rates of ACEs in the United States.
1 in 4 Idaho high school girls (23.2%) experienced sexual violence. 2
1 in 8 Idaho children lives with someone struggling with mental illness or substance abuse. 1
1 in 10 Idaho kids has at least one parent who has served time in jail. 1
1 in 13 Idaho children has witnessed domestic violence. 1
2 in 5 Idaho high school students experience signs of depression. 2
1 in 5 Idaho high school students considered suicide. 2
1 in 10 Idaho high school students attempted suicide.2

1. National Survey of Children's Health, U.S. Department of Health and Human Services, Health Resources and Services Administration (HRSA), Maternal and Child Health Bureau (MCHB), 2018-2019
2. Center for Disease Control, Youth Risk Behavior Survey, Idaho, 2019
With your support, the Idaho Youth Ranch Residential Center for Healing & Resilience will be a place of hope for generations of Idahoans to come.
"This is an Idaho problem, and our kids deserve an Idaho solution. Too many of Idaho's kids are growing up in a world where hopelessness and trauma are a way of life, and it is in our power to change it. When our kids struggle, our state struggles."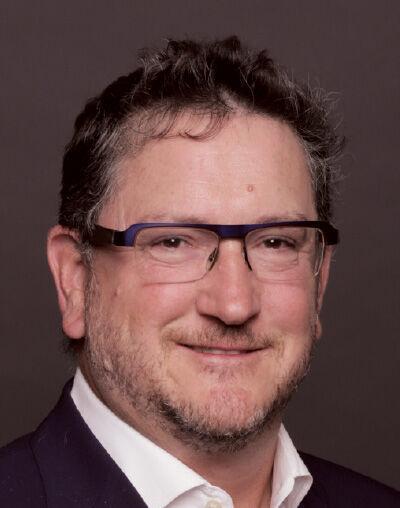 Idaho Youth Ranch Capital Campaign Co-Chair
Thank you to everyone who is supporting a more promising future for Idaho's kids.
Robert & Beth Rebholtz
Campaign Co-Chairs, Boise
Mark & Jen Miller
Campaign Co-Chairs, Boise
Cliff & Donna Findlay
Honorary Campaign Co-Chairs, CDA
Jim Eckhardt
Honorary Campaign Co-Chair, Weiser
Bill & Bernie Daniels
Honorary Campaign Co-Chairs, Boise
Andy Scoggin
Boise
Denise (Dee Dee) Smith
Boise
John Grizzaffi
Boise
Josh & Samantha Tyree
Boise
Leroy Custer
Boise
Todd Cranney
Boise
Peter & Julie Oliver
Boise
Tommy Ahlquist
Boise
Brian Scott
Capital Campaign Advisor, Boise