We always feel so fortunate to receive so much incredible support from our community. Without support from generous partners, we wouldn't be able to help as many kids through our therapeutic services and residential programs. Recently, our network of community support grew when we met Suzi Boyle and Max Mohammadi.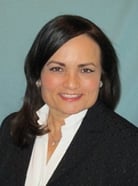 Suzi Boyle is a Senior Mortgage Loan Originator at One Trust Home Loans in the Treasure Valley. Suzi believes in challenging the status quo and building relationships based on service instead of transactions. That's why Suzi, and her colleague Max Mohammadi, have pledged to personally donate $500 to Idaho Youth Ranch for every home loan they close for an Idaho Youth Ranch supporter.
Their generosity is based on the simple idea of "buy a home, give a home." Their goal is to help people buy their dream homes and then turn around and give kids in need a chance to find their way to a better home- whether that be through kids in the our residential programs or the kids working with our outpatient programs to build stronger relationships with their families.
Thank you, Suzi and Max for your awesome support. We're so grateful for your commitment to providing promising futures to Idaho's kids!
If you or someone you know is currently in the market for a home loan, please call Suzi Boyle at 208-859-3303 or email sboyle@onetrusthomeloans.com and mention "Idaho Youth Ranch."